In the dying days of the Battle for Italy,    who can stay alive, sane, and in love? 
Embers of War was published in summer 2020, the 75th anniversary of the end of WWII in Europe.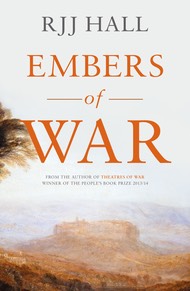 Summer 1944. War-torn Naples teems with Allied troops but the inhabitants struggle with lack of food and work. Prostitution is rife.

As the Italian campaign enters its second year, Frank, a British officer, knows he has been lucky. Since reopening an abandoned theatre, he has entertained thousands of Tommies by staging operas.
Vermillion, an ATS officer, feels fulfilled working at the theatre; and with Frank falling for her, she begins to return his feelings.
But firebombs from an air raid fan the flames of Frank's memories of war. Nightmares threaten to engulf him. Should he hang on in Naples or confront his fears by rejoining his former comrades as they fight their way north?
And if Frank returns to the front, what will Vermillion do? She won't stay in Naples just waiting for his return ...
Click on the image of the book cover and you will be taken to the publisher's website at troubador.co.uk where you can purchase the paperback or the ebook. The code 'MILIONE' will ensure a £4 discount on the paperback. 
Alternatively, click on waterstones.com or amazon.co.uk to go to the relevant pages of their UK sites. You may find because of distribution problems resulting from Covid 19 that some books are wrongly listed as "temporarily out of stock". But these difficulties shouldn't affect purchases direct from Troubador.
You can read the first chapters of Embers of War by clicking on the words in bold. To return to this site, click on the reverse arrow on your web browser.
The cover image of the book is a detail from View of Orvieto by JMW Turner, courtesy of the Tate.